Field Proven Reliability Since 1916
For more than 90 years Wheatley's advanced technology has solved industry's flow control problems.
Select your Triplex model below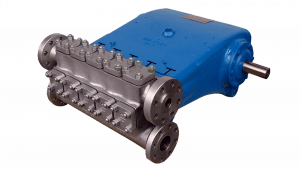 Triple your capacity with one of our Wheatley Triplex Models
Wheatley's Exclusive Offset Crankshaft
By offsetting the crankshaft Wheatley engineers have reduced vertical thurst loads by more than 40 percent. Crankshaft vibration is virtually eliminated. Friction, heat and wear are significantly reduced.
Wheatley pumps feature a low profile power end making them particularly suitable for close-quarter applications. Wheatley power frames are manufactured from close-grained, one-piece castings. They are precision-bored to provide dimensional stability and matched alignment of the stuffing box, wiper box, crosshead, pony rod and plunger.
High Capacity Roller Bearings
We have simplified the alignment of the high-capacity tapered roller bearing to allow for easy adjustment from outside the pump. Bearing housings are precision-machined and interchangeable.
Wheatley Quality Plungers
To provide maximum versatility, plungers are available in several high quality materials. For the ultimate in plunger surface hardness, the exclusive Weataloy™ plunger is made from a stainless steel body coated with a special nickel alloy. Other available materials are chrome oxide, and, for maximum corrosion resistance, solid ceramic plungers.
Precision machining and strict quality control standards assure proper valve standoff and maximum operating life. Other seat and disc materials are also available to meet your application requirements.